Over Winter Break, Rice alumni, parents and friends around the country welcomed current students to their workplaces to shadow them as Owl Edge Externs. These volunteers represent career fields ranging across industries and areas of expertise, including engineering, public policy, communications, finance, aerospace, government, nonprofit, IT and more.
Here are just a few of the alumni and students whose Rice connection paved the way for a unique professional experience.
New York City, New York — CommonBond
Owl Edge Externs Jeremiah Chikota '20 (left) and Radhika Sharma '18 (right) with host Kevin Bailey '04 (center)
Kevin Bailey '04 — director of business development and partnerships at student-loan-related financial services company CommonBond.com and a member of the Association of Rice Alumni Board of Directors — welcomed two current students, Jeremiah Chikota '20 and Radhika Sharma '18, to explore the company's corporate headquarters and spend time with members of his team.
"I had a blast hosting two Rice students for an externship at CommonBond," Kevin says. "Everyone here was very impressed with Jeremiah and Radhika and thought the Rice externship program was very cool. I couldn't agree more!"
Houston, Texas — ExxonMobil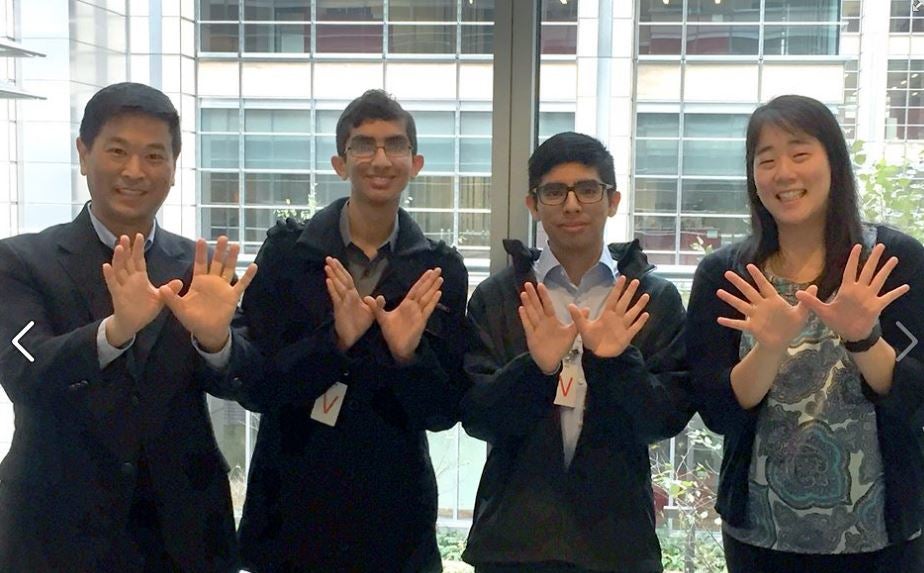 Owl Edge Externs Hamza Rahim '20 (center left) and Emmanuel Loredo '19 (center right) with alumni and parent hosts Kevin Ding '95 (left) and Elaine Louie '06 (right)
"I am extremely grateful towards my externship host for clearing out his day and opening the doors of one of the world's most prestigious companies to me," says Hamza Rahim '20, who shadowed Kevin Ding '95 at ExxonMobil's offices in Spring, Texas.
"Apart from enjoying a tour of the wonderful ExxonMobil Spring campus, I had the pleasure of meeting many Rice alumni and enjoyed learning about their experiences at Rice and ExxonMobil," Hamza says. "Overall, this was a very insightful day for me, and it has opened my eyes to some of the amazing work opportunities available for an electrical engineer."
Pasadena, California — NASA's Jet Propulsion Laboratory
Owl Edge Externs Colin Howman '19 and Rae Holcomb '19 with host Kristjan Stone Ph.D. '08
Kristjan Stone Ph.D. '08, who works at NASA's Jet Propulsion Laboratory studying superconducting detectors for satellite missions, welcomed Colin Howman '19 and Rae Holcomb '19 to the JPL in Pasadena, California. As a host, he had the chance to learn from them as well as shape their externship experience.
"The program gave me an opportunity to hear how things were going at Rice," Kristjan says, "and also to connect Colin and Rae with people who lined up with their specific interests when they were out of my field. It felt great to be able to give specific advice and recommendations, too."
"It is great that alumni have another venue to give back to Rice, and especially one that has such a direct impact on the career trajectories of current students," Kristjan says.  "The externship program truly makes Rice stand out as a university dedicated to giving its students the best education inside and outside of the classroom."
Hear more from Colin and Rae on anticipating tomorrow's space challenges.